Summer HOT SALE 55% OFF
The limited supply of 500pairs as low as $19.98
BUY MORE SAVE MORE
HALLUX VALGUS pain weighing you down but you're trying to avoid the BUNION SURGERY? Here is a NATURAL and PAINLESS solution for you!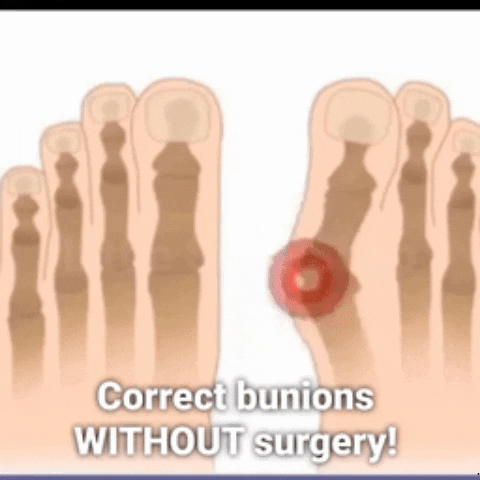 The Orthopedic Bunion Corrector isprofessionally designed to reduce bunion pain and get you back on your feet. This simple fix can solve your foot problems in the most cost-efficient and easiest way possible without undergoing surgery. By wearing the bunion sleeve, it will gently re-align toes to their natural position.
Orthopedic Bunion Corrector 2.0 moves angled toe back to the natural position while realigning skeletal system for posture correction. 

Three-arch support design evenly distributes pressure across arch, heel and ball. Properly supports the three points to keep subtalar joint mobilization balance.
It is a must-have innovation for following toe condition, it can be used to effectively correct a variety of foot health problems such as: LAW TOE, CORNS, CALLUSES, ARTHRITIS, HAMMER TOE and other ailments.
FEATURES
ABSOLUTE PROTECTION: Medical Grade Gel protects skin while walking and exercising. Gel pad acts as a buffer to shield the sensitive bunion area to prevent painful rubbing from occurring. Activities will now be pain-free and enjoyable again.
BUNION RELIEF THAT CAN BE WORN WITH SHOES: This bunion protector can be worn discreetly under shoes, socks, and stockings for undetectable protection. Can be worn in all kinds of shoes including your most elegant pair. Feel and look your best with these bunion corrector sleeves.
SECURE, COMFORTABLE FIT: Enjoy the secure fit of these bunion sleeves. These bunion toe straightener sleeves are one size that fits all and can be worn by men and women alike.
Made from High Quality Gel for to provide an effective relief
Stretchable sleeves which are suitable for the most feets.
Possible to wear it without shoes around the house or on-the-go in most shoes.

Great for those who STAND on their feet for PROLONGED periods of time and the ELDERLY.

Supportive, all-day relief, can be worn at day or night, indoor or outdoor.
FLEXIBLE for all feet size.

Material: Spandex Sleeves with integrated quality gel pad
USAGE
Clean your feet and keep it dry, then simply place on toes, adjust it until you're comfortable.
SHIPPING
Shipping time: USA: Standard Shipping (12-20 days),Express Shipping (5-12 days),VIP Shipping (3-5 days),Free Shipping (12-20 days) 
Shipping time: Other countries:Standard Shipping (12-20 days),VIP Shipping (3-5 days),Free Shipping (12-20 days)